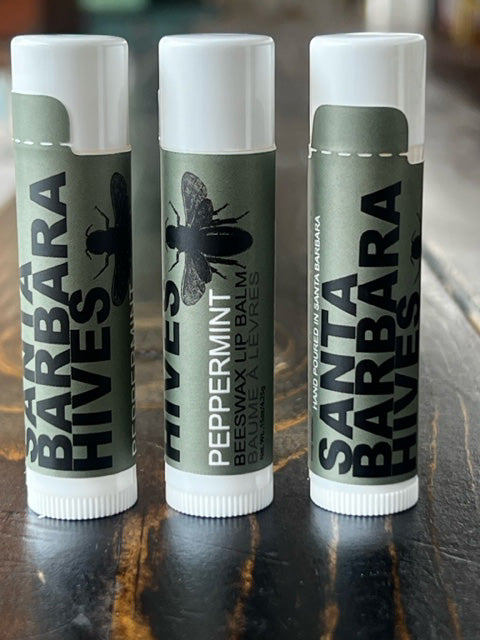 Mother's Day Gift Ideas--Beeswax Lip Balm
Mother's Day Gift Guide from Santa Barbara Hives
You can celebrate your Mother, Mother Earth and the bees with awesome, organic, products from Santa Barbara Hives like our just released beeswax lip balms, organic bar soaps or all natural bath bombs! If you are in Santa Barbara please visit one of our stores as we have incredible jewelry, scarves, table cloths and much more you should see in person.
1. Beeswax Lip Balms
Our beeswax lip balms are hand poured by beekeepers in our upper State St. facility in Santa Barbara using all organic ingredients! 
Flavors include Coconut, Lavender, Lemon Rosemary, Lavender, Rose and Unscented. 
Our first wave of lip balms are packaged in recyclable plastic tubes, preferable for water and snow activities but our paper tube lip balms, twice the size, will be available soon with SPF and tinted lip balm options as well.
2. Organic "Santa Barbara Hives" Bar Soap
Our new bar soaps are made with all organic, intentional, ingredients and are stamped "Santa Barbara Hives" making them very attractive gifts locally and beyond. Who doesn't love a great smelling bar of soap and who doesn't love the American Riviera?
Cegar and Sage--very exfoliating.
French Clay and Geranium--great for detoxifying the skin. Can be used as a shave bar.
Honey and Oatmeal--great face soap. Gently exfoliates, helps skin absorb and retain moisture.
Lavender and Oatmeal--great for dry skin, soothing, gentle exfoliation.
Peppermint--for normal to oily or acne skin, soothing
Rosemary and Lavender--amazing for eczema!
3. Queen Bee T-Shirt
Your Mother is the Queen of your hive, give her a beautiful t-shirt she will wear with pride! If you do not see your size or color please reach out!
4. All Natural Bath Bombs
Our All Natural Bath Bombs are getting rave reviews! Made with baking soda, citric acid and essential oils, they fizz when you drop them in the tub! The citric acid makes your skin feel silky smooth and the various scents are really soothing and relaxing. Current choices are Lavender, Eucalyptus, Peppermint and Rosemary. We hand press our bath bombs at Santa Barbara Hives State St!